Center for Synthetic Biology (CSB) faculty, staff and students, and guest speakers from academia and industry gathered for the Center's Annual Retreat last week to exchange ideas, career experiences, and path-breaking research across different disciplines in the field of synthetic biology. The event occurred at Northwestern Medicine's Louis A. Simpson and Kimberly K. Querrey Biomedical Research Center where several Center faculty laboratories are located.
"What I love most about the Annual Retreat is getting to know what else is already happening here that you may not see in your particular building or floor and hearing different perspectives that spark new conversations and inspire new directions," says Danielle Tullman-Ercek, Professor of Chemical and Biological Engineering and Co-Director of CSB.
The program kicked off with introductory remarks by CSB faculty members Niall Mangan, Assistant Professor of Engineering Sciences and Applied Mathematics, and Yogesh Goyal, Assistant Professor of Cell and Developmental Biology, Ashty Karim, CSB Director of Research, and Tullman-Ercek.
"I do almost all of my work collaboratively and a large number of my collaborators are in CSB," says Mangan. "I just love being a part of it because the types of experiments and problems they are interested in span both the scientific questions and the engineering questions that I find super engaging and enable the type of modeling that I'm interested in doing."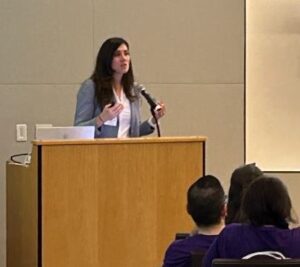 Guest speaker Kate E. Galloway, W.M. Keck Career Development Professor in Biomedical Engineering at MIT, gave the keynote address on "Engineering high-precision, dynamic genetic control systems for cellular reprogramming."
"Kate's talk showcased how you can visualize complex problems and solutions and make them relatable to the entire audience," said Tullman-Ercek.
Together with Northwestern Engineering's Ludmilla Aristilde, Associate Professor of Civil and Environmental Engineering, and Neha Kamat, Associate Professor of Biomedical Engineering, Galloway also participated in a career panel for students interested in an academic career track.
"At a very early age, education was very attractive to me, but I didn't know I would be a professor," said Aristilde. "I grew up in Haiti. My mother was a kindergarten teacher, and my father was a schoolmaster. It was remarkable to me to see how much my parents' lives had a positive influence on our village."
Aristilde received her BS in Science and Earth Systems at Cornell University and both an MS in Civil and Environmental Engineering and a PhD in Molecular Toxicology at the University of California-Berkeley.
"I had a very circuitous academic journey due to my diverse interests," said Aristilde.  Before starting her first faculty position, Aristilde said, "I went to France as a Fulbright Scholar right after my PhD and then I did my postdoc at Princeton."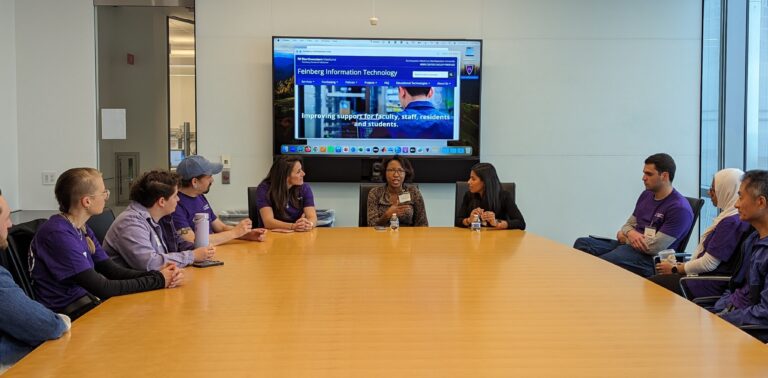 It wasn't until she was a junior in college where Aristilde tutored engineering students in calculus and math that she realized that she wanted to become a professor.
"I just loved it. I wanted to continue to be a mentor at the university level."
Kamat's paternal grandparents were educators in the village where her father grew up. The experience inspired her father to pursue his postdoc in the US which led to a career as a research scientist and, eventually, a college professor. Her interest in research was sparked early as a participant in her high school's science research program. That experience led to a scholarship to Rice University where she had the opportunity to work in the lab of Jennifer L. West.  Kamat decided to go to graduate school. During her first year at the University of Pennsylvania, she "fell in love" with research, but still was uncertain about her path.
"I had no aspirations for academia at that point. Most of the people in my lab were going to go to industry. That's just what I thought would happen," said Kamat. "There also was not a ton of people who looked like me. Fortunately, Kamat's advisor, a "terrific mentor" she says, told her she had what it took to go into academia.
"I needed to hear that because I wouldn't have gone for it. That led me on the track." After receiving her PhD, Kamat completed her postdoctoral fellowship at Harvard University and Massachusetts General Hospital before coming to Northwestern.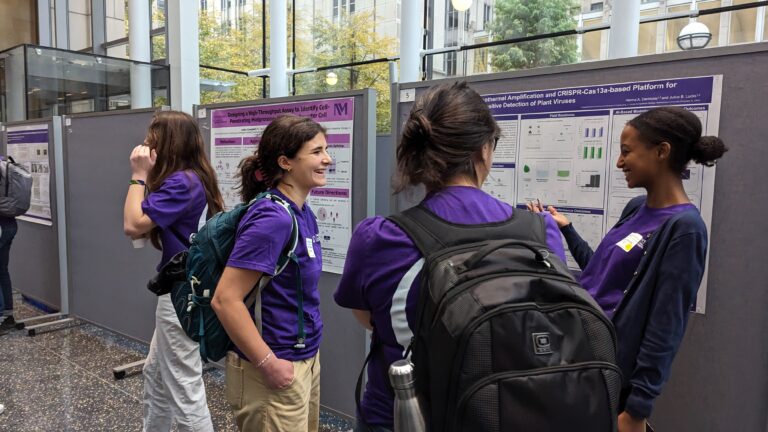 The program's other career panels included an Industry discussion with Kate Dray, Asimov; Taylor Dolberg, Eli Lilly; and Jon Strutz, LanzaTech; and a "Beyond the Bench" conversation with Narasimhan Balakrishnan, Guidehouse; Olga Lyandres, Greenhouse Gas Management Institute; and Michael Fiske, Northwestern Invention Manager; who shared their respective experiences in the fields of consulting, policy and data science, and intellectual property.
Participants in CSB's Synthesizing Biology Across Scales (SynBAS) program led a lively poster session. A National Science Foundation-funded National Research Traineeship (NRT) program, SynBAS focuses on convergent synthetic biology training for graduate students.
The afternoon featured faculty talks by Tullman-Ercek and CSB faculty members Jaehyuk Choi, MD, Associate Professor of Dermatology, and Kamat, followed by an interactive ethics conversation on generative AI led by Brendan Quinn, Senior Developer, University Libraries.
"From the research side of things," says Mangan, "CSB is such a cool playground of different problems to work on."
by Lisa La Vallee
Photo Credits: Zachary Ochinko (main image), Christine Akdeniz and Lisa La Vallee