Entrepreneurship
Northwestern's synthetic biology impact extends beyond the lab. The Center's collaboration across disciplines and schools to address global issues allows for high-impact and potentially groundbreaking partnerships and outcomes.
Northwestern's Research Ecosystem Fuels Startups
Northwestern researchers are pioneering synthetic biology technologies that stand to transform our world in multiple ways. For example, Northwestern researchers are:
Decentralizing manufacturing with "just add water" biomanufacturing approaches, where cellular enzymes are freeze-dried in test tubes, shipped to where they are needed, and rehydrated on-site with a single drop of water to produce medicines and therapeutics on-demand.
Developing new approaches for drug delivery, harnessing the ability of cells to package and deliver payloads of biological molecules that can be programmed for therapeutic purposes.
Creating new ways for data storage, using the power of programming and packaging DNA into microscopic data banks that can store the contents of the entire library of congress in a dot the size of a poppy seed.
The Center for Synthetic Biology has produced seven start-up companies to date
This success is fueled by a close partnership with Northwestern's Innovation and New Ventures Office (INVO), which offers faculty entrepreneurs the resources and support to launch a startup, secure a patent, and more. The Kellogg School of Management also provides valuable assistance for marketing these new companies, showcasing the power of leveraging strengths and resources across the University to grow and develop. Another key partner is Northwestern's Querrey InQbation Lab. The lab, launched in 2021 to provide a dedicated space for faculty innovators to commercialize their scientific discoveries, is home to three startups created by Center for Synthetic Biology faculty.
See our startups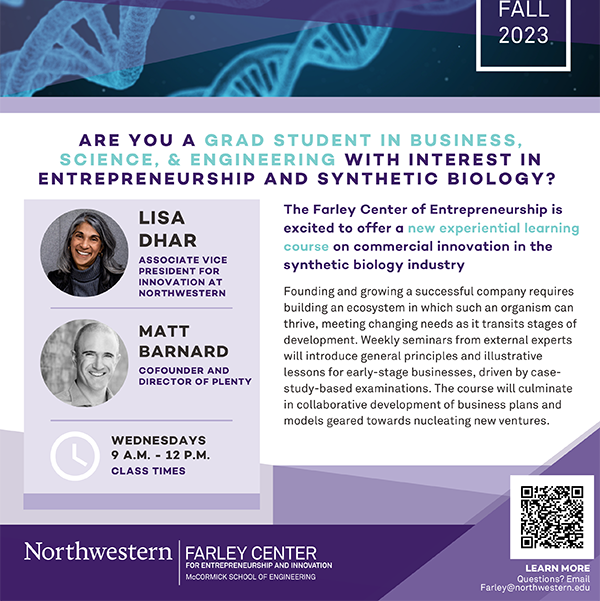 New Seminar in Synthetic Biology Entrepreneurship
Are you a graduate student in business, science, and engineering with an interest in entrepreneurship and synthetic biology? The Farley Center for Entrepreneurship and Innovation is excited to offer ENTREP 395: Entrepreneurship in Synthetic Biology, a new experiential learning course on commercial innovation in the synthetic biology industry. The course will be taught by Lisa Dhar, associate vice president for innovation at Northwestern, and Matt Barnard, cofounder and director of Plenty, a vertical farming company. The course will culminate in collaborative development of business plans and models geared toward nucleating new ventures.
Learn more
Our Startups
The mission of Northwestern Synthetic Biology startups is to solve problems and improve lives