After nine weeks of hands-on research, the fifth cohort of Northwestern's Center for Synthetic Biology's Undergraduate Research Experience (SynBREU) gathered to share what they learned and celebrate their successes at the program's culminating symposium last week. Students took turns presenting their research in front of a live audience and engaging fellow students, mentors and faculty members during the afternoon poster session.
"I was very impressed by how much the students grew as researchers in such a short period of time," said SynBREU program director Danielle Tullman-Ercek, co-director of the Center for Synthetic Biology. "It was a joy to get to know them and nurture their interest in synthetic biology and its potential to transform medicine and the world we live in. They are the future of the field."
This year's undergraduate participants in the National Science Foundation-supported program were:
Liam (Lee) Bristol, a senior at North Park University majoring in cell and molecular biology; Faculty mentor: Danielle Tullman-Ercek; Lab mentor: Elizabeth Johnson
Vani Lorish, a sophomore at The College of New Jersey majoring in chemistry; Faculty mentor: Gabriel Rocklin; Lab mentor: Állan Ferrari
Isaac Melendrez, a junior at New Mexico State University majoring in Biochemistry; Faculty mentor: Amy Rosenzweig; Lab mentor: Olivia Manley
Michael Olagbiyan, a sophomore at the University of Florida majoring in bioengineering; Faculty mentor: Neha Kamat; Lab mentor: Tim Vu
Julian Robles, a junior at the University of the Incarnate Word majoring in biochemistry; Faculty mentor: Milan Mrksich; Lab mentor Zhaoyi Gu
Gretchen Ruiz Cruz, a sophomore at the University of Puerto Rico majoring in industrial biotechnology; Faculty mentor: Joshua Leonard; Lab mentor: Amparo Cosio
Sophia Spallone, a sophomore at UCLA majoring in microbiology; Faculty mentor: Arthur Prindle; Lab mentor: Sarah Quillin
Abdur-Rahman Waajid, a freshman at the University of Chicago majoring in bioengineering; Faculty mentor Yogesh Goyal; Lab mentor: Emmie Grody
Wanyu (Mary) Xiang, a sophomore at Santa Clara University majoring in biology; Faculty mentor: Julius Lucks; Lab mentors: Herma Demissie and Maram Naji
Jocelyn Zonnefeld, a junior at Dordt University majoring in statistics; Faculty mentor: Niall Mangan; Lab mentor: Katie Dreyer
Under the guidance of program faculty and lab mentors, SynBREU students engaged in research-intensive activities that included an introduction to synthetic biology techniques and laboratory skills training. They also attended workshops on various research-related topics, such as how to present scientific information and format a paper. In addition to a $6,500 stipend, the students received partial or full room and board, a meal plan and paid travel expenses for those not in the Chicagoland area.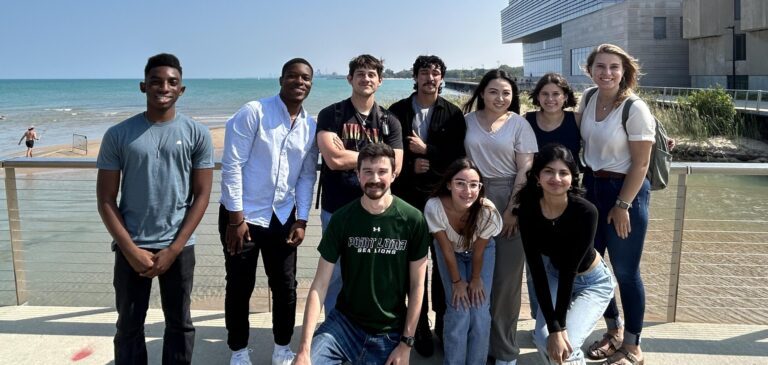 Front row (from left): Liam Bristol, Gretchen Ruiz Cruiz, Vani Lorish; Back row (from left): Michael Olagbiyan, Abdur-Rahman Waajid, Julian Robles, Isaac Melendrez, Wanyu (Mary) Xiang, Sophia Spallone, Jocelyn Zonnefeld
"The most valuable thing that I took away from this program is a feeling of independence when working in the lab," said North Park University senior Lee Bristol. "I was pretty confident in my lab skills and my knowledge of techniques, but then to take that understanding and knowledge and translate it to actual lab work was hard. Working with my mentor in this program and through talking with my PI, I was able to take my understanding of techniques and move it into an actual application."
Feature image: Danielle Tullman-Ercek (CSB Co-Director), Sophia Spallone, Gretchen Ruiz Cruz, Wanyu (Mary) Xiang, Jocelyn Zonnefeld, Vani Lorish, Michael Olagbiyan, Abdur-Rahman Waajid, Julian Robles, Isaac Melendrez, Liam (Lee) Bristol, Ashty Karim (CSB Director of Research)
Written by Lisa La Vallee